Ashram Supporter Package
( EUROS 300 )
This special offer is to help fund various projects at Ananda Ashram, YOGNAT and Sri Kambaliswamy Madam in Pondicherry. For your 300 Euro donation, you'll receive the monumental Trilogy of Yoga History authored by our beloved AMMAJI Yogacharini Meenakshi Devi Bhavanani, the Living Siddha of Pondicherry, along with a 1-year bonus e-subscription to Yoga Life Journal.
History of Yoga from Ancient to Modern Times: Vol.I
History of Yoga from Ancient to Modern Times: Vol.II
Rishi and the Rakshashas
One year Yoga Life e-subscription (bonus)
Help Support Our Work & Get Your Exclusive 3-Book Package (plus bonus Yoga Life e-subscription)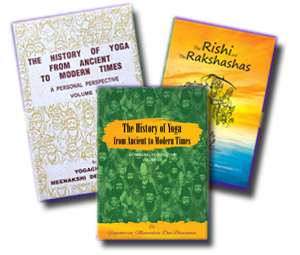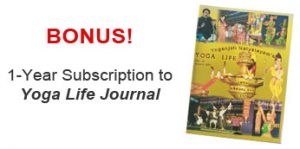 THE HISTORY OF YOGA FROM ANCIENT TO MODERN TIMES-Vol 1 and 2
These amazing encyclopedic compilations gives a thorough look into the history of Yoga from its origin in timeless, pre-Vedic ages, through the Vedic period and the medieval era, down to present times. The study also traces the role of Asana is Yogic lore, and how this concept has evolved and changed, through the ages. Various Yogic scriptures are examined and the spread of Yogic thought to the West is also discussed in detail as well as its effect on modern philosophers. Gurus in modern times are also studied with their impact on Yogic concepts. Written in an easy to understand language, this book will give a sincere Sadhaka a wonderful overview of both Yoga's past as well as its present. It may well be Ammaji's magnum opus.
THE RISHI AND THE RAKSHASHAS
This amazing book describes the journey of a spiritual seeker whose passion for India is tested in an extreme manner. Philosophical and spiritual questions are examined in an allegorical style. The story is laced with a large number of whimsical essays, which capture the bewitching qualities of this ancient land and its people. An amazing insight into the ancient culture of Hinduism, especially valuable for those seekers of Yoga who wish to understand the culture from which this mighty science has grown. Beautifully illustrated with line drawings by the eminent artist of Pune, Maharasthra, Sri S.D. Bapat.